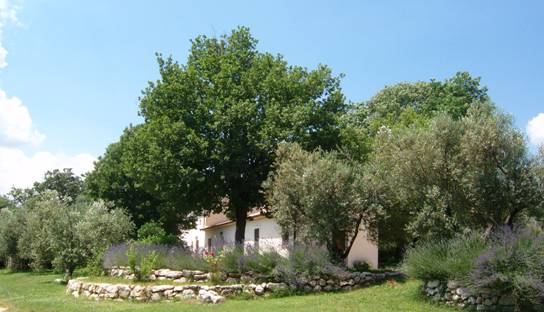 Antica Tenuta is a farmhouse always open but is request reservation. Minimum stay 2 nights.
Antica Tenuta is nestled in one of most charming central Italian countryside, in the heart of Abruzzo, green region of Europe.
Located in the hills surrounding Balsorano (2 km), Antica Tenuta overlooks beautiful views of green Roveto Valley and the lovely landscapes of Pizzo Deta (2100 m.o.s.l.) mountain. The country-house is in the middle of 2500 olive-trees, and consists of 2 large, comfortable apartments for max 5 peoples each.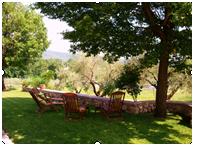 We sell our extra-virgin olive oil from biological agriculture.
Our farmhouse is one stop on the oil- trail "Le strade dell'olio" della Regione Abruzzo.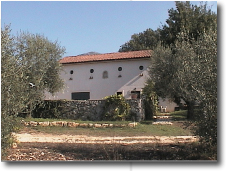 Peoples who loves trekking or biking can enjoy the panoramic trial to Sant'Angelo sanctuary or fall in natural reserve of "Zompo dello Schioppo" , trail or simply walk among chestnut or hazel woods, or along Liri river.
If you love medieval castles or roman archaeological places we can help you to have a nice trip.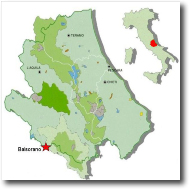 In Balsorano you can find swimming-pool and restaurants, excellent specialities at convenient prices (about 10 - 15 €/meal); there are also horses and tennis.
In Balsorano you'll find:
Piccolomini Castle in Balsorano Vecchio.
La fontana del XIII secolo
Monte Sant'Angelo sanctuary (XIII secolo).
Ruins of old S. Maria delle Grazie Church (XII sec.).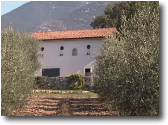 Antica Tenuta has accommodation in 2 nice flats (about 55 m , max 5 beds): comfortable apartments, furnished in the rustic style with independent entrance, kitchen, 2 bedrooms and 1 bathroom with shower.
Amenities: television, hair dryer, barbecue, oven, iron, maps.


Ideal farm-holiday-house for peoples who love animals or natural reserves.
Each flat has, outside in the garden, tables, chairs and couch on glass, ping-pong, cricket, and playground for children.
Our costumers can use barbecue and free take away vegetables in our family vegetables garden.
Large parking.

There is no restaurant inside our farmhouse.

The old farmhouse was completely restored in 2000, is located at only 120 km from Rome, 130 km from Pescara, 130 km from Naples et 80 km. from L'Aquila. It is easily reached by bus or car or train. The property, conveniently located a short drive from the freeway entrance, enjoys easy access to the numerous natural and artistic treasures of Abruzzo.
from Roma (km. 120) o from Pescara (km. 130) o from L'Aquila (km.85) highway A25 Roma - Pescara, exit "Avezzano"; then highway " Avezzano –Sora –Cassino" exit Balsorano.
From Naples, highway A1, exit Cassino; highway "Cassino – Sora – Avezzano" exiti Balsorano.